*Main plot starts at chapter three* There is only one Pokemon capable of learning any move, and that's Mew. Project HM 00 wants to change that. During the project's test run, a program error occurs and Missingno, an incomplete Pokemon is created. Missingno has no real form and needs oran berries to stay alive. It has no intentions of staying incomplete, though, and it'll stop at nothing to find what it's missing. -Currently in color. Beginning pages are in black and white -Updates: Whenever, it seems
About the Comic/Miscellaneous Stuff
(Last updated: 7/9/2015)
Affiliates
Affiliates for the comic are listed near the top of every page. I am not currently accepting new affiliates.
Affiliate Requirements:
Your comic is a drawn Pokemon Comic
It's at least somewhat active
It's not of a mature rating >w>
Rescue Team Ramen
AKA: Pokemon Break! version 1.0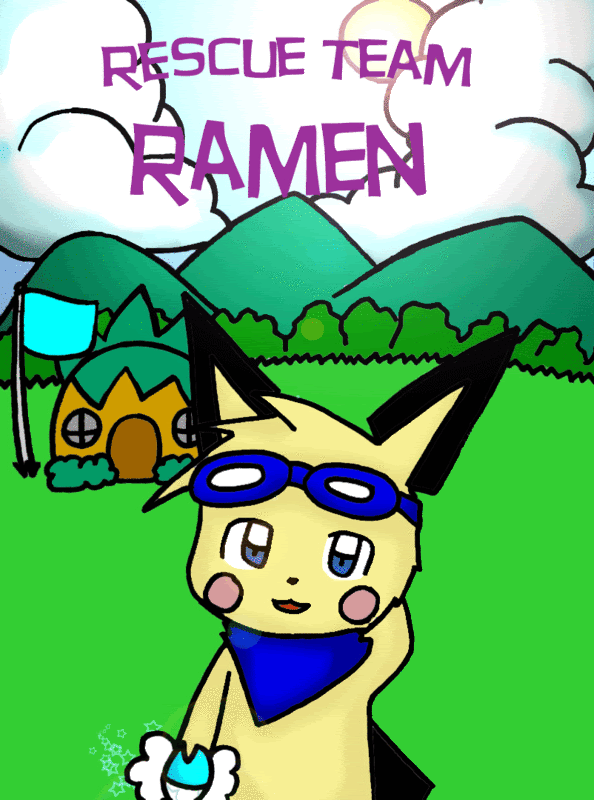 So, for those who haven't been following the comic too long here is the history of the comic. xD It's longer than I meant it to be and completely boring. Feel free to skip this. In fact here is the short version: RTR was what PB! started out as. There. Done!
Rescue Team Ramen, is what this comic started off as. I started RTR back in high school in 2007. It was a for fun thing that I drew in band class for my friends. A friend of mine introduced me to this site and I started posting pages. RTR wasn't well thought out, actually it wasn't thought out at all. I just drew whatever came to mind, and I had no idea where the story was going. As I kept going with that comic I slowly came up with an actual plot somewhat. Unfortunately, or maybe fortunately, I decided to restart the comic as I had no idea what to do with was was the current storyline at the time.
I took some time to actually plan some of the comic for the restart then. RTR restarted and around that time I had come up with back stories for all the characters in the comic. They didn't have a place in the main comic, so that's where Pokemon Break! came in. PB!'s name wasn't really thought out, it was just the first thing that came to mind. It was meant to be the side comic to RTR and would be updated whenever I was tired of the other Pokemon and I wanted to take a Break from it. xD
Anyway, RTR restarted and it never got really far. I didn't plan as well as I could have for it and I ended up not liking where the comic started off in the whole timeline. Also updates for both comics were really slow. Since, at that point, PB! was almost done with two chapters, I just decided to declare RTR dead and continue on with PB!. Chapter three of PB! is essentially the beginning of the comic. Chapters one and two come much later. xD But I kind of like that now.
So there you have it, the history of this silly webcomic. Not all that interesting. LOL
About Bananakin
I like to draw pokemon and play hockey. I like to draw on cards with sharpies. Or anything with sharpies, really. I like to think I'll be able to speak Japanese someday. I work in fast food. I talk in silly voices to make the work day go by faster. I go to anime conventions. I want to cosplay. Maybe. Someday? I have awesome friends. My pokemon collection seems to keep multiplying. I don't read as much as I'd like to. I'm lazy. I forget which way is left and right when people give me directions while I drive. I instagram food and my doodles and pokemon and anything I see. That's what cool people do, right? I don't know how to talk in front of people. I've never been outside the country. Except Canada. But that doesn't count. It's like an hour's drive from here. Or less, actually, I'm not really sure. I also have never made an "About Myself" post. Can you tell? I also like to ramble. And mint chocolate chip is hands down the best ice cream flavor on the planet.